India and Bharat Together's Margshala Program has been up and running. Regular sessions and webinars have been the way in these strange times. The Margshala students are enthusiastically attending these sessions with plenty of interaction with the speakers.
On Sunday, 26th of July, 2020, we had our team member and youth mentor, Purabi Sarkar, who has worked in the hills for a long time, speaking to the young students of Margshala. Purabi is the director of TARE in Pithoragarh, and has previously worked with Dehradun based NGO Association of Organic Farmers. Her talk aimed at providing the Margshala youth with information about various livelihood opportunities in the hills and how life in the hills can be bettered despite its challenges. There is no dearth of opportunities even in the Himalayan hills if one truly wants to make a livelihood. What is scarce, however, is the information regarding these opportunities.
Purabi started her discussion by asking the young students if they had heard about the "ghost villages" of Uttarakhand. A few of the students were aware of the uncanny desertification and depopulation of these remote villages of Uttarakhand, where the youth would emigrate to larger cities to look for opportunities. The rise of "ghost villages" in the state affecting how lack of opportunities can lead to demographic as well as structural changes in a village. This, however, is not exactly because of a lack of opportunities, this is a phenomenon born out of a lack of information regarding opportunities in remote hill villages of the state.
Entrepreneurship and Opportunities in the Hills
A major part of Purabi's discussion was focussed on several livelihood opportunities that the youth could embrace in their villages. She focussed on localization, how local companies can take over the food manufacturing market and build their own brand. This usually works as it becomes easier to build trust in the local population if the company is a local one. Customers would be aware of the various nuances of the manufacturing process. Devbhumi Food and Packaging Company is a good example of this. This company, based in Pithoragarh, has localized its production and immediately became a huge hit among the locals.
Purabi also talked about entrepreneurship ventures by giving instances of Masala Self-Help Group, Amarnath LadooSelf-Help Group, Takana Teas Cafe, Madua biscuit, production of desi ghee, manufacturing of hand-knotted carpets, spiritual and medicinal tourism, usage of industrial hemp, organic festivals, production of masks, local instruments, usage of kafal, rambans and rhododendron and promotion of Bakhli houses. She also talked about naulas or traditional groundwater spring which could also be a source of livelihood for the local youth. She further mentioned gharats or traditional watermills which are eco-friendly and were popularly used in the earlier days to grind grains. The youth can make use of such traditional techniques to generate environmentally sustainable livelihoods.   
Purabi pointed out how hill architecture is studied by international and national students. She talked about Bakhli houses, which are indigenous to the state and are known for their unique structure and built. She further pointed out how these traditional and indigenous forms of architecture can be utilized for both tourism as well as research purposes. The Takana Teas Cafe was another example she explained. This cafe is built from local products produced by local craftsmen. It is set in an old building that has been renovated and is a good source of livelihood creation for many women in Pithoragarh.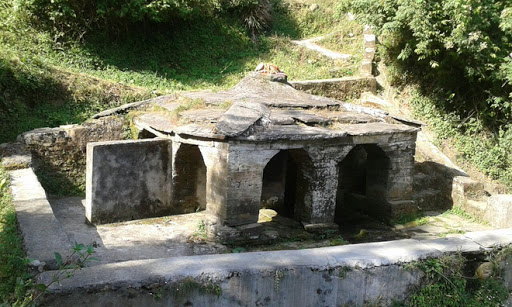 Individual Livelihoods and Community Development
These livelihood opportunities are not just beneficial at an individual level. They can further increase the level of tourism in the state, lead to women empowerment, community development as well as income generation. For instance, the Masala Self-Help Group of Kothera, Gangolihat is a good example of community-based development as well as livelihood and income generation. The self-help group is managed by local women who use their own agricultural products to make spices. The women use their own field-grown coriander or chilies and make the spices and do the packaging in a completely hygienic and safe way.The beauty of the session can be further highlighted when one of the youth mentioned that he was thinking of a similar idea after the speaker talked about this self-help group! 
Purabi also gave examples of youth – Naresh and Kishore, who were present during the session and how they have been working for the community. Naresh has been documenting and clicking photographs of villagers and has also been helping trekkers in their endeavors. He also sings rap songs about his village and community and hopes to make people know more about the mountain culture. Kishore wants to make trekking affordable for tourists and helps them by guiding them. He dreams to have his own start-up "Talla Johar Chotiwala" and continue his venture. He is also a keep mushroom cultivator in his hometown Bansbagar, Munsiyari, and has shown that alternative livelihood options are possible if there is a will.The very aim of Margshala has been to encourage and motivate the youth and after this interactive session,
The session makes it clear that there is hope, our villages do not have to turn into "ghost villages" anymore. Our Margshala youth interacted and talked about their own ideas throughout the session. With such enthusiasm, change seems more plausible. Information on livelihood opportunities in the hills does not have to be so scarce. All we need is an idea, an idea to make it big.   
Watch here: Livelihood in the hills