"Allow your passion to become your purpose and it will one day become your profession."
-Gabriella Bernstein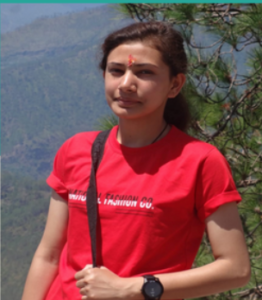 This quote by Gabriella Bernstein beautifully embodies our Margshala alumna Tanuja who is currently in her final year, pursuing Humanities from Laxman Singh Magar College, Pithoragarh. Tanuja  lives in Pithoragarh with her parents, grandmother and younger brother and is completely focused on turning her dream of getting into Defence into a reality. 
Her determined spirit is something that drew us to her. Her resolve to do what she deemed suitable for herself is not a quality found often. While the youth aspires to get a government job solely because of job security and steady income, they may not be aware of how difficult it is to achieve it. However, Tanuja's passion and love for her country motivates her to work hard to get to where she wants to be.
"I was in class 12th when I realised that I wanted to join the defence, and since then there is no looking back" Tanuja says with a smile on her face.
When Tanuja joined the Margshala Program in 2020, it was around then that the COVID-19 pandemic swept the world off its feet. All her learning shifted to the virtual world. She was different from most of the students as most of the students joined our program to find their career path but Tanuja already knew her goal and the career path she wanted to follow. However, she said that the program taught her how to move forward with her dream and the steps to take to achieve it. "With the guidance I received, I was able to improve my skills and learned more about my strengths and weaknesses and how to work on turning my weaknesses into my strengths", she chuckled.
Margshala also exposed her to an array of opportunities in Pithoragarh. She joined a child welfare society where she teaches and enjoys it thoroughly. She also has a keen fondness for badminton and plays the sport in the time she isn't preparing for her exams.
Through the Margshala program, Tanuja was exposed to so many career opportunities which she wasn't quite aware about, like entrepreneurship. Learning so much about herself and the various career opportunities really helped her broaden her horizons.

Tanuja is determined, passionate and absolutely committed to her aim and she knows she will turn her dream into reality come what may. We are all so excited to see her in her uniform, defending our country.