Divya Rawat of Kandara village in Ukhimath is known as the Mushroom lady of Dehradun. Her story is a very inspiring one. She has renewed the concepts of mushroom cultivation and has brought in a revolution in this sector. Divya started cultivating mushrooms at a very young age, and is now redefining livelihood options in Uttarakhand.
Daughter of Late Tej Singh Rawat, Divya completed her schooling from Dehradun and went on to finish her masters in Social Work from Amity University in Delhi. She worked with the Non-Governmental Organization (NGO) Shakti Vahini and realized how the youth back home lack not just opportunities but also skills, which leads to a lack of livelihood options. She returned to her home in Uttarakhand and participated in an entrepreneurship program in the Directorate of Mushroom Research in Solan in 2012 where she met many mushroom scientists.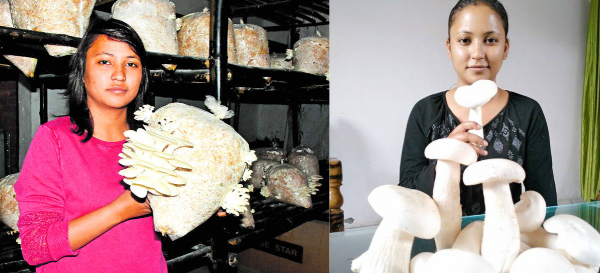 Starting with only 100 mushrooms, Divya never looked back. She cultivated mushrooms in temperatures ranging from 35 to 40 degrees, expanding the scope of mushroom cultivation in India. She has encouraged the rural women as well as the youth to take up entrepreneurship. "I want the youth to come out of their comfort zones", she says. She believes that through something innovative, challenging and constructive, the youth can rule the world.
Divya took it as a mission to spread the cultivation of mushrooms to every household in Uttarakhand. "Mushroom cultivation does not require one to go out, we can do it indoors," she says, "We can all cultivate mushrooms at our homes, in one or two rooms." Her home is a research as well as a knowledge centre.
Divya today runs the Soumya Foods Private Limited Company and provides employment and livelihood to women as well as youth of the region. When the 2013 Uttarakhand floods happened, she went from door to door encouraging people to embrace a sustainable method of farming as well as inspired the women to create their own livelihood. Because of her unprecedented work, she became the Brand Ambassador of Uttarakhand and also got awarded with the Naari Shakti award which the President of India Pranab Mukherjee himself presented to her.